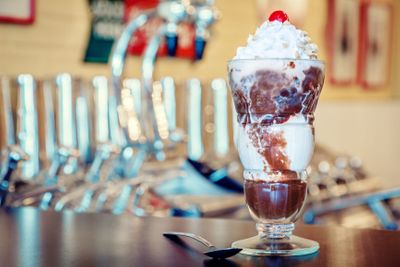 The Lyon Parlor Soda fountain has been in the Salem Apothecary since our grand opening in November of 1985. The soda fountain itself is from the Renaker Dime Store in Corydon, IN, the set of 8 stools from another old drug store in Madison, IN and the footstep was built by our Pharmacist Rebecca's husband Phil. The circa 1916 soda fountain unit took five guys to remove it from its original location and get it into place by the front window of the Salem Apothecary! What child or adult wouldn't want to sit on those stools and be able to spin??
Come visit us at the Lyon Parlor Soda Fountain! Have lunch, have ice cream, take a spin on the stools and create some memories of your own!
Lunch Served 11:30AM - 2:00PM Monday - Friday
Call us at 812.883.4500 or follow us on Facebook or Instagram for our weekly lunch specials.